Tap Water Pesticides Linked to Allergies
By Sydney Lupkin | ABC News Blogs – Mon, Dec 3, 2012 8:02 AM EST
Tap Water Pesticides Linked to …
As food allergies become increasingly common, a new study offers the first proof that they may be linked to pesticides found in tap water.
Researchers at the American College of Allergy, Asthma and Immunology used existing government data to see whether people with more dichlorophenols in their urine were more likely to have food allergies. Dichlorophenols are a kind of chlorine in certain pesticides that are known to kill bacteria, and in theory, they could be killing the naturally occurring bacteria in humans' digestive systems, causing food allergies.
"We wanted to see if there was an association between certain pesticides and food allergies, and we were specifically interested in dichlorophenols because those were the ones that had this antibacterial effect," said lead researcher Dr. Elina Jerschow. "When researchers have compared bacteria from the bowel in healthy kids versus bacteria in the bowel for kids that have lot of allergies, they've noticed a big difference."
The number of children and teens with food or digestive allergies in the United States has increased 18 percent between 1997 and 2007, according to a 2008 study by the Centers for Disease Control and Prevention. That's about 3 million people under 18 years old.
Eggs, fish, milk, peanuts, shellfish, soy, tree nuts, and wheat make up 90 percent of food allergies, according to the CDC report. Symptoms can range from mouth tingling to anaphylaxis, which is the swelling of the throat and tongue and can lead to death.
Jerschow clarified that the researchers were only looking for a statistical association, meaning they were not able to examine patients to see how these chemicals physically caused their allergies. Because it's only an association, these findings could mean that the chemicals caused the food allergies, or it could mean the food allergies caused the chemicals in the urine. That part is not yet clear.
"While the study does not allow concluding that pesticides are responsible for the allergies, it certainly raises the possibility and justifies pursuing the kinds of studies that can help sort of if these pesticides are, indeed, the cause," said Dr. Kenneth Spaeth, who directs the Occupational and Environmental Medicine Center at North Shore University Hospital. He was not a researcher involved in the study.
Spaeth said the study findings fit in with a growing evidence that pesticide exposure can damage the immune system, which could increase allergies as well.
Researchers were surprised to find that dichlorophenol levels in urine didn't vary between urban and rural areas, Jerschow said. They concluded that even those who opted for bottled water instead of tap water could ingest the pesticide chemical from eating fruit, fruit juices and foods with cocoa powder, like chocolate.
As such, Jerschow said the research is still too preliminary to suggest that Americans should change their eating or drinking habits.

EartH2O receives "A+" rating from caféHydrate-the definitive guide to bottled waters.
caféHydrate is the definitive bottled water buying guide. The easy to use mobile app helps you learn and appreciate the differences among bottled waters so you can make an informed purchasing decision. caféHydrate provides easy to access information about bottled waters from all over the world. The information includes reviews and grade ratings, history, story and background of the water, technical specifications and notes, customer reviews and much more. They are constantly adding new products. The app is promoted through advertising, water and consumer related blogs, social networking, sponsors, and partnerships. The bottled water guide is digital and subsequently easy to update and maintain with accurate content.  Both our natural spring water and our distilled water received the A+ rating.  The caféHydrate app is available on the App Store for iPhone.
Carcinogens in the news (and in your water).
"Hexavalent chromium." Now there's a compound you don't want in your drinking water. A toxin and known carcinogen that just made news showing up in the tap water of 31 U.S. cities – including Bend.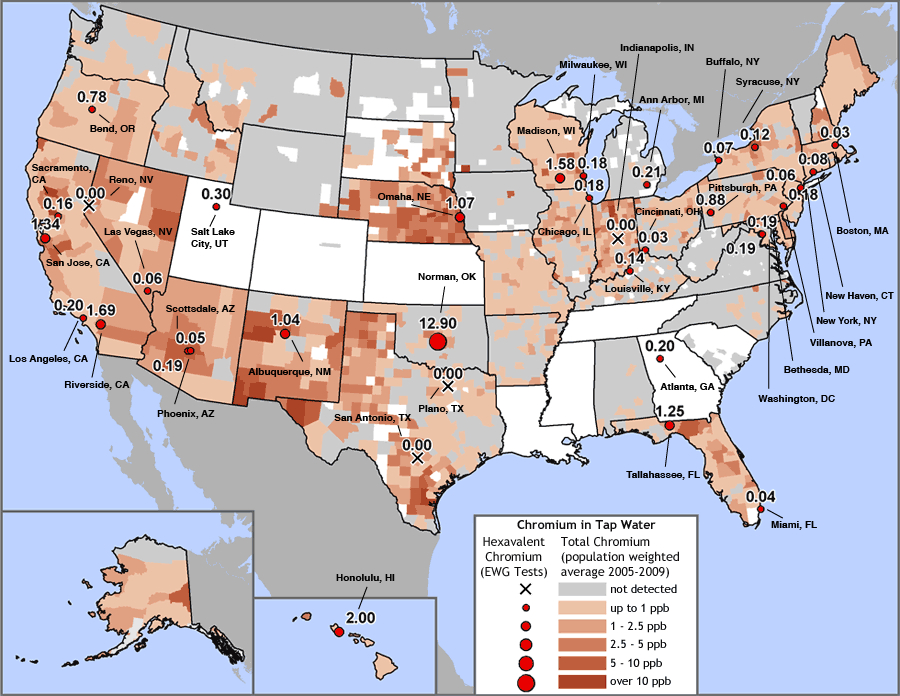 This is the cancer-causing compound made famous by Erin Brockovich, the one-time file clerk who uncovered the toxin leaching into ground water in Hinkley, CA nearly 20 years ago. While the EPA hasn't established a legal limit for hexavalent chromium, it raises alarm when an elevated level shows up.
It's worth noting that Opal Springs and EARTH2O is fed by an underground aquifer, protected from atmospheric contaminants, unlike the surface and ground water Bend and other cities use as sources for their tap water. While we cannot say that chromium will never reach our aquifer, it is highly unlikely that it will in our lifetime.
It is also important to mention the levels of chromium in Bend's water is below federal maximum contaminant levels. While high, it is below federal standards but above California standards.
Pepsi spending $10 million on plastic bottle project.
By Jessica Holbrook
LATHAM, N.Y. (Oct. 18, 3:30 p.m. ET) — Pepsi Beverages Co. will begin manufacturing plastic bottles at its Latham bottling plant.
Pepsi will invest $10 million in a project to replace merchant-supplied plastic bottles with ones blow molded on-site, according to a news release from The Capital Region Economic Development Council, a state agency in the Albany, N.Y., region.
The project aims to improve both sustainability and productivity – the plant will run energy efficient blow molding machines designed to cut energy use by more than 2.4 million kilowatt hours annually. Switching to on-site production also will save energy on transportation, and reduce the need for bottle handling and preparation, according to the release.
The plant will hire five additional employees. It currently has 325 employees, 167 of whom work in manufacturing.
Purchase, N.Y., -based Pepsi received $286,000 from the New York State Energy Research and Development Authority, a public-benefit corporation that awards funding for energy-saving projects.
Please note:  From day one at EARTH2O we have set out to be a leader in the beverage industry.  We have been producing our own bottles since 2011 exclusively from 100% recycled PET material.  We are proud to take every step we can to decrease our impact on the environment and glad to see global companies following in our footsteps.  Keep it Real.